DOT Fines Frontier Airlines $50K For Throwing Disabled Man Off Flight
Written by Roberto Castiglioni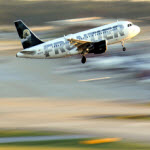 The United States Department of Transportation fined Frontier Airlines $50,000 for throwing a disabled man off a flight in June 2011.
24-year-old Colorado State University student John Morris was asked off the Frontier Airlines flight in Dallas on June 19, 2011. Morris lost use of his arms, legs, or torso as a result of a snowboard accident six years ago.
Because of his condition, he needs support and restraint to sit upright in a seat other than his wheelchair.
Frontier Airlines accommodated his needs on the first leg of his trip. But as he made his way inside the cabin on June 19th, the Captain ordered him off the flight.
"The U.S. Department of Transportation (DOT) today assessed a civil penalty of $50,000 against Frontier Airlines for violating rules protecting air travelers with disabilities," The DOT said on Friday.
"An investigation by DOT's Aviation Enforcement Office into complaints filed against Frontier found that the carrier violated the DOT regulation implementing the Air Carrier Access Act (ACAA) with respect to its transportation of an individual with a disability."
"Frontier also violated the Department's disability regulation by failing to provide the passenger with adequate assistance in pre-boarding and getting on and off the plane, despite receiving multiple advance notices that the individual had a disability and needed assistance prior to his flight."
Frontier Airlines issued a statement on Friday. "We have always taken the responsibility of serving customers with disabilities seriously. Since this incident we have conducted a thorough review of our training to identify areas of improvement and continue to be dedicated to providing our customers with a consistent and pleasant travel experience. We will continue to work with the DOT and utilize our partnerships with programs serving people with disabilities, such as Craig Hospital, to ensure that we are appropriately assisting our customers with disabilities and continuing to provide the professional level of service they've come to expect from Frontier."
Budget carrier Frontier Airlines operates a fleet of 91 aircraft. Headquartered in Denver Colorado, the budget carrier serves 76 destinations throughout the United States, Mexico, Costa Rica, and the Dominican Republic.
UK disabled citizens and residents with reduced mobility are nowhere as lucky as their American peers when it comes to protection of their rights to fly. The UK Government continues to ignore calls of the EU Commission to set up a system of civil penalties, thus making the National Enforcement Body toothless when the need to enforce EU Regulation 1107/2006 arises.
To make things even worse, the National Complaint Handling Agency for England, Scotland, and Wales unilaterally stopped providing conciliation services to disabled passengers in distress effective April 1st 2012.