Supreme Court Issues Notice to SpiceJet on Disabled Plea
Written by Roberto Castiglioni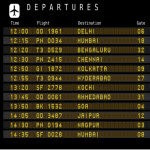 India's Supreme Court issued a notice to Spicejet on the plea filed by Jeeja Ghosh, the disabled passenger thrown off a SpiceJet flight because of her condition.
Supreme Court justices Aftab Alam and Ranjana P Desai are also seeking replies from the Centre and the Directorate General of Civil Aviation (DGCA).
Jeeja Ghosh, a teacher at Kolkata's Indian Institute of Cerebral Palsy, boarded a SpiceJet flight to Goa at Kolkata airport on February 19. Shortly after boarding the aircraft, a flight attendant asked Jeeja to get off the flight. 
Miss Ghosh, who has cerebral palsy, said that the captain of the SpiceJet flight had refused to travel with her on board because she did not carry the "fit to fly certificate".
"I was hysterical as the flight officials did not bother to explain why they had stopped me from taking the flight," Jeeja told The Times of India.
Miss Ghosh is a frequent flyer. Cerebral palsy never prevented her from traveling by air unaccompanied. "I am a regular flier. All I need is a little bit of assistance," she said. 
According to India's Civil Aviation Requirements, Section 3 – Air Transport Series 'M' Part I (Carriage by Air of Persons with Disability and/ or Persons with Reduced Mobility) "no Medical clearance or special forms shall be insisted from persons with disabilities or persons with reduced mobility who only require special assistance at the airport for assistance in embarking/ disembarking and a reasonable accommodation in flight, who otherwise do not require any additional assistance." 
In her plea, Miss Ghosh urged the Supreme Court to order the airline to pay compensation for financial loss and waste of time, and the humiliation and the trauma she suffered in the incident of February 19. 
In the UK, disabled passengers are prevented to seek compensation for injury to feelings as a result of a recent ruling of the Court of Appeal in the case of Hook vs. British Airways.
SpiceJet is India's second largest budget airline, operating a fleet of 40 aircraft connecting 31 cities with 240 flights daily.