Easyjet Fighting Disabled Discrimination Charges in French Court
Written by Roberto Castiglioni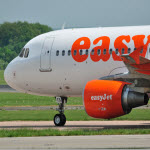 Budget airline easyjet appeared today in French Court, charged with discrimination against a disabled passenger.
The incident dates back to 2010. A 39-year-old wheelchair bound woman was made leave the easyjet service from Paris to Nice. The crew took the decision to offload the disabled passenger because they were unsure if she could have left the aircraft unaided in case of an emergency.
The decision was taken after the disabled passenger said she could not reach the toilet unaided. The crew asked the woman to leave the aircraft despite several fellow passengers offering to assist her in case of need.
"Safety of our passengers and crew is and will always be out top priority," Easyjet Communication Director Paul Moore told Reduced Mobility Rights. "Ultimately, it is the captain's call to decide if a passenger is fit to fly, which means he or she is able to evacuate the aircraft unaided in case of an emergency."
The disabled woman is of a different opinion. She stated this flight was the return leg of her journey, and that no one had raised questions or concern in her previous flight. The passenger filed against easyjet on the allegation of the airline discriminating against the disabled.
Easyjet already faced a court case for discriminating against disabled passengers in January 2012. A French court found the low cost airline guilty of discriminating against disabled passengers, fining the budget carrier euro 70,000 (GBP 54,000). Easyjet appealed the ruling.
In January 2012, British businessman Martin Sabry was thrown off an easyjet flight departing from London Gatwick. The budget airline received a warning from the Civil Aviation Authority. The airline's CEO, Carolyn McCall OBE, apologised in person to Martin Sabry.