Thomson Airways Opens Investigation Into Disabled Passenger Complaint
Written by Roberto Castiglioni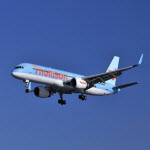 World's largest charter airline Thomson Airways has opened an investigation into the internal handling of a disabled passenger's complaint.
Mrs C.M. booked a flight with Thomson Airways in November 2011. Mrs C.M. has reduced mobility as a result of severe osteoarthritis. Going by the book, the passenger informed the airline of her condition at the time of booking. She requested her husband to be seated next to her, so he could give her assistance, and bulkhead seats for the return leg of her flight.
Two days after the booking, Thomson Airways customer welfare, the department dealing with assistance to passengers with reduced mobility or disabilities, informed the passenger the airline had requested bulkhead seats for her and her husband. 
Despite the early request for assistance, things did not go as planned. "On the outbound flight TOM 556 there were 5 empty bulkhead seats we were denied use of these seats," C.M. recalls.
In addition to the bulkhead seat denial, the couple was charged to be seated together. "Thomson has charged us £50 to sit together on the aircraft although it is a requirement for them to sit us together so that proper care can be given," she added.
Upon her return to the U.K., C.M. filed a complaint with Thomson Airways customer services. Customer support dismissed her complaint, stating "you had received what you had paid for."
Not satisfied with Thomson's response, Mrs C.M. contacted the Civil Aviation Authority. CAA's Customer Affair Officer Michael Evans told the disabled passenger that "The Equality and Human Rights Commission are the designated body to receive such complaints in the UK," and suggested that she pass her complaint for investigation to EHRC.
Following instructions, Mrs C.M. went to contact the Equality and Human Rights Commission. The EHRC ditched her call for help, blaming funding cuts.
"Unfortunately, due to our funding being cut, we are no longer able to offer conciliation for cases related to EC Air Regulations 1107," Chloe Driver, Helpline Advisor at the Equality and Human Rights Commission told her.
Mrs C.M. contacted Reduced Mobility Rights. "I have recently raised a complaint against Thomson for a PRM issue on a flight and gone down the road of informing both the CAA and EHRC," she said. "The last reply from the EHRC states they are unable to intervene in my case. Where does that leave PRM's now?"
"I wish to make it clear that this is not a complaint to get compensation from Thomson but firstly to ensure that they and other operators adhere to existing regulations both now and in the future," she added. 
Reduced Mobility Rights followed up on her complaint with Thomson Airways. The airline said they would investigate the handling of the complaint and consider the issue.
"Thomson Airways takes its responsibilities in relation to passengers with reduced mobility and disabilities very seriously," a Thomson Airways spokesperson told Reduced Mobility Rights. "Mrs Matthew's complaint is currently being reviewed and we will be in contact with her once our investigations are complete."
The Civil Aviation Authority, who runs a complaint handling service in parallel to the EHRC, told Reduced Mobility Rights they would be happy to assist Mrs C.M. "If disabled passengers have any issues with complaining about their treatment with a UK airline, they are welcome to contact the CAA," a Civil Aviation Authority spokesperson said. 
Third largest UK airline after easyjet and BA, Thomson Airways carried 10.9 million passengers in 2010. The airline operates a fleet of 60 aircraft on short, medium and long haul routes.
On short and medium haul routes, up to six hours flying time, Thomson Airways standard seat pitch is 28/30 inches. This is the same "high density" configuration of most low cost airlines like Easyjet, Ryanair, and Monarch.
Lack of movement because of cramped seating conditions on flights of three hours or more is one of the primary precipitating causes of Deep Vein Thrombosis. In DVT a blood clot forms in one of the veins deep inside the leg. The clot can break away from its location and travel through the heart into the lung where it can cause severe symptoms, at times resulting in death. More common in older people, it can develop regardless of the age group.
On long haul flights, Thomson Airways offers a two class seating arrangement, Premium Economy and Economy. Seat pitch in Thomson's economy class is 33 inches, 2" more than British Airways and 1" more than most mainstream airlines.