Safety or Cost Efficiency? Analysing Ryanair Disabled Passengers Policy
Written by Roberto Castiglioni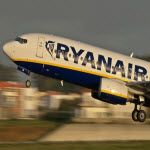 Low cost airline Ryanair carries a maximum of four disabled passengers with reduced mobility per flight, explaining the limit exists for safety reasons.
The limit also applies to other categories of disabled passengers. Blind passengers travelling with a guide dog or vision impaired travelling alone also fall into the reduced mobility class limit number. However, blind passengers who do not require special assistance and are traveling with an able companion are not subject to the limitation.
The limitation raises eyebrows, and some believe the real reason for its existence lays into making sure the airline can achieve faster "turnarounds" by tightly controlling the loading and unloading time of passengers requiring assistance.
Turnaround times are a key component to any budget airline business model. The technical term "turnaround" indicates the time needed by ground handlers for loading, unloading, and servicing an aircraft. Faster turnarounds significantly increase airlines' profits.
Budget airlines often take a pass on the opportunity to discuss the connection between limiting the number of passengers with reduced mobility per flight and turnarounds times. Australian low cost carrier Jetstar is the exception to the rule.
Jetstar enforces a limit of 2 passengers with reduced mobility on any given aircraft. "This practice is similar to that used by other low-cost carriers in Australia and is designed to balance care for passengers requiring assistance with the everyday operational needs of a low-fares airline," a Jetstar spokesperson said.
"Ryanair has never refused to board a pre-booked PRM. There had been occasions when passengers did not make onto the aircraft, but those cases were related to issues caused by airport assistance services," Ryanair's Stephen McNamara explains.
"Passengers with Reduced Mobility (PRM) must contact Ryanair at the time of booking to let us know the kind of assistance they require. At that stage, we can see if the maximum number of PRM per flight has been reached. In such case, we will discuss with the passenger, advising the best alternative flight available," the Ryanair spokesperson added.
The quest to trace the origin of these limits made us come across an interesting discovery. Ryanair claims the maximum of four disabled/mobility impaired passengers were agreed and put in place in 1995 after discussions with the Irish Wheelchair Association in Ireland and the Royal Association for Disability and Rehabilitation (RADAR) in the UK.
According to the budget airline, the agreement on the limit was concluded by Mr Kell Ryan, Ryanair's then Director of Ground Handling and Mr Bert Massie, then Director of RADAR. After the facts, Mr Massie went on to become the Chairman of the Disability Rights Commission (DRC).
Unfortunately for Ryanair, both the DRC and Mr Massie deny ever making such agreement. The DRC said that they had no involvement "in any shape or form" with providing guidance to Ryanair on limits to the numbers of disabled passengers able to board flights.
During a debate on airlines and disabled passengers issues at the House of Lords in October 2005, Lord Ashley of Stoke (Labour) said about the alleged agreement: "I have spoken to the chairman of the Disability Rights Commission, Mr Bert Massie, who says that is untrue."
European legislation (Commission Regulation 859/2008) sets rules for the maximum number of PRM per flight. The definition of said limitations can be found in ACJ OPS 1.260, which terms are unchanged from the previous Section 2 of JAR-OPS 1.
The regulation says that "In circumstances in which the number of PRM forms a significant proportion of the total number of passengers carried on board, the number of Passengers with Reduced Mobility should not exceed the number of able-bodied persons capable of assisting with an emergency evacuation. This means that passengers with reduced mobility and other disabilities may be up to 50% of the total number of passengers on any given flight. The 50% limit is imposed by most airlines, including budget carrier Easyjet, who operate a business model almost identical to Ryanair.
National Licensing authorities may require their carriers to impose more stringent restrictions on carriage of PRM than the 50% limit.
Ryanair operates a fleet of Boeing 737-800. Operating a single type aircraft fleet helps to maximize revenue per passenger (RPM) by reducing maintenance and crew training costs. Each aircraft can carry a maximum of 189 passengers and four cabin crew members. 
"The IAA enforces European law with regard to passenger seating," says Claire O' Donoghue, Senior Aviation Executive at the Irish Aviation Authority. "The restriction on seating certain categories of passengers at bulkhead rows is entirely driven by operator preference when compiling emergency procedures. There is nothing specific in the legislation which determines this."
Reduced Mobility Rights understand Ryanair's Operations Manual, approved by the Irish Aviation Authority, contains the limit of maximum four PRM per flight. Ryanair explained the introduction of the limit as a safety precaution. In case of an emergency, each PRM on-board would receive one-to-one assistance by cabin crew.
However, it is unlikely that flight attendants may assist PRMs during an emergency landing, due to the workload assignments in such event. Also, the Ryanair's website states that "For safety reasons cabin crew cannot lift passengers [] If you require these types of assistance you must travel with an able bodied accompanying passenger aged 16 or over." 
"There does not seem to be an evidence base for these [PRM] limits and a stakeholder suggested to us that, in the event of an emergency, it is impossible to predict whether even able=bodied passengers will be in a physical or psychological state consistent with evacuating the aircraft in the expected time; therefore, it was discriminatory to have a PRM limit," the Evaluation of regulation 1107/2006 report of Directorate-General Energy and Transport of the EU commission said.