Important Information for Passengers With Reduced Mobility Booking Qantas Flights
Written by Roberto Castiglioni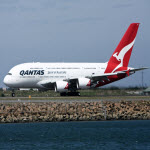 Few weeks ago Qantas owned budget carrier Jetstar came under the spotlight for enforcing a limit of 2 passengers with reduced mobility on any given aircraft.
Australian residents might be fully aware of these limits, however, international disabled passengers visiting Australia may be caught off-guard, and possibly face unexpected re-bookings.
Reduced Mobility Rights has interviewed Qantas, discussing possible scenarios a passenger with reduced mobility may face travelling to Australia.
"Qantas does not have a limit on the carriage of passengers requiring wheelchair assistance on International or domestic flights operated by Qantas aircrafts", a spokesperson said.
Qantas complies with all US or applicable Federal government requirements in terms of assistance to disabled passengers. However, things get a little bit less straight forward when it comes to domestic flights.
"If the passenger books on a Qantas codeshare flight with Jetstar, once the WCHC request appears in the booking, Jetstar does come back with a KK or UN," a Qantas Special Handling agent explains.
Qantas operates a number of domestic flights in codeshare with Jetstar. This means that even if the flight code is Qantas, the flight itself may be operated by a Jetstar aircraft.
The code KK confirms the availability of the seat for the passenger with reduced mobility. If instead the return code is UN, the aircraft will not accept the disabled passenger.
"So if they book a Qantas flight number on a Jetstar flight and notify us of a wheelchair request, we can confirm the seat (or re-book them on another flight)," Qantas also explains.
Things can get more complicated if the disabled passenger purchases the flight through Qantas, but the flight code and number are Jetstar.
"If the flight is booked on the JQ flight number, the passenger will have to contact Jetstar directly to check that there is not 2 PRMs already booked," the Qantas spokesperson further explained. "In this case, passengers need to follow up directly with Jetstar to check their options."
Oddly enough, Qantas do not make mention of this essential travel information in their otherwise truly professional and thorough "Disability Access Facilitation Plan for Qantas Airways Limited" page on their website.
At the end of 2011, wheelchair bound 75-year-old Sheila King took Jetstar to Federal Court on an allegation of discrimination against the disabled. Mrs King was left on the ground from a Jetstar flight from Adelaide to Brisbane in August 2008. The Qantas owned low cost airline said the disabled passenger was not allowed on board because she was the third disabled traveller travelling with her own wheelchair showing up at check in for that flight. 
Federal Court Judge Alan Robertson ruled in favour of Jetstar, stating the plaintiff omitted to check the special assistance tab at the time of booking her flight on the airline's website. Judge Robertson ordered Mrs Sheila King to pay Jetstar's legal costs, capping them at AUD 20,000 (GBP 13,500/ USD 20,700). 
The advice to international passengers with reduced mobility traveling to Australia is to research who operates the chosen domestic portion of their travel itinerary before confirming the reservation. When in doubt, tell a travel agent of the requirement and have them double check that all domestic legs are operated by Qantas aircraft only.
Once verified that the itinerary does not comprise Jetstar operated flights, disabled passengers must provide Qantas with as much information as possible about the nature of their disability and assistance required. It is necessary to complete this procedure as early as possible, better if at the time of booking.