U.S. Carrier Spirit Airlines Fined For Disability Violations
Written by Roberto Castiglioni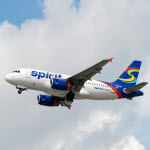 The U.S. Department of Transportation fined Florida based Spirit Airlines $100,000 (£63.500/€75,600) for failing to respond to complaints filed by disabled passengers.
"Our rules on how airlines handle disability-related complaints are designed to help us ensure that passengers with disabilities are treated fairly when they fly," said U.S. Transportation Secretary Ray LaHood. "We will continue to make sure carriers comply with our disability rules and take enforcement action when they do not." 
In the United States, disabled passengers' rights are defined by the DoT 14 CFR Part 382 (Non-discrimination on the Basis of Disability in Air Travel).
The regulation also sets the rules for complaint handling, which also includes reporting. In Subpart D, 382.70, subparagraph (e), the regulation states that airlines "shall retain correspondence and record of action taken on all disability-related complaints for three years after receipt of the complaint or creation of the record of action taken. Carriers must make these records available to Department of Transportation officials at their request."
An inspection of Spirit Airlines main offices conducted by the Federal Aviation Enforcement Office found violations to the law. Spirit failed to classify, account, and respond to a large number of disability-related complaints the airline received between 2009 and 2010.
Compliance with the rules of DoT 14 CFR Part 382 is required for all domestic and international airlines operating flights within, from and to the United States of America.
Reduced Mobility Rights is actively lobbying for the institution of civil enforcement powers for regulation 1107/2006 in the United Kingdom. Under EU regulation, each member state has to give enforcement powers to the National Enforcement Body.
The U.K. Civil Aviation Authority is the National Enforcement Body of EU Regulation 1107/2006 in the United Kingdom. To date, the CAA has criminal enforcement powers only. 
"Unfortunately, [enforcement] powers are not very flexible or proportionate and make it difficult for us to take action," Dame Deirdre Hutton, Chair of the Civil Aviation Authority said.
The U.K. Department for Transport is said to be working on transferring enforcement powers to civil procedure. However, no official information on the topic has been released to date.