Is it too early to celebrate over transport benefit change of plans?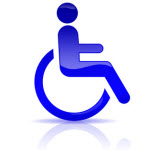 Transport issues for disabled people are a major obstacle to fulfilling potential and enjoying life, so it's good news that the planned axing of transport benefit for care home residents is not going to happen.
The Government is trying to grapple with a huge budget which has mushroomed since disability living allowance (DLA) was introduced.
It wasn't meant to be this way and there are some unwelcome welfare cuts coming which is why they thought it a good idea to abolish transport benefit for care home residents.
Unfortunately that meant that those disabled people would have been restricted to their homes, unable to go out.
All of this started after last year's spending review prompted outrage when the government announced it wanted to remove the mobility component in the DLA for 80,000 disabled people living in care homes from 2012. Cutting the £51 per week benefit would have saved £160m.
It's taken a year to explain that the benefit axe would mean that disabled people would have been effectively institutionalised in their care homes.
Now common sense prevails and the benefit can be used to enable disabled people to travel to see family and friends.
The Department for Work and Pensions said: "Our aims have always been to ensure not only protection of public funds but also that disabled people who live in residential care homes retain their independence and are not prevented from getting out and about."
It's interesting that the move to cut benefit came from a mistaken belief that care homes received a separate, direct funding for transport. (Indeed, a very few councils do this but not enough to change national policy).
And now, after an independent review conducted by Lord Low, the Government accepts that removing the benefit would be "a serious step backwards for disability rights". 
The government said it would table an amendment to the welfare reform bill to withdraw the proposal to remove the allowance.
So while it appears that disabled people in care homes will now get out and travel independently there's bound to be another fight around the corner for anyone interested in protecting the travelling rights of disabled people.
As we have flagged up here at reducedmobility.eu, it's the individual assessment process which is really going to be the deal breaker. Keep vigilant and keep fighting for disabled transport rights!