Cathay Pacific Faces Discrimination Complaint for Asking Disabled Passenger to Get Off Flight
Written by Roberto Castiglioni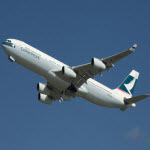 Honk Kong based Cathay Pacific Airways faces serious allegations of discriminating against a disabled passenger the airline asked to leave a plane.
On November 2nd 2011, wheelchair-bound Lin Yi-Ru boarded the Cathay Pacific Airways flight from Taipei (Taiwan) to Hong Kong, first leg of a journey ending in Munich (Germany). Miss Lin boarded her flight on time.
After boarding her flight, she was approached by the flight's purser who asked her to get off the plane since the crew was under the impression the passenger could not manage her needs without an escort.
To make things worse Miss Lin alleges Cathay Pacific failed to give her assistance after kicking her off her flight. "It was very late. I kept asking CPA to arrange another flight for me, but I ended up taking a direct China Airlines flight to Germany instead," the disabled woman told Focus Taiwan. 
Ling Wei-Chien, marketing manager at Cathay Pacific Airways, confirmed the passenger did not receive assistance after being disembarked, and said the airline would apologize for not helping Miss Lin in this instance.
The incident sparked a protest against Cathay Pacific. A group of people with reduced mobility gathered today outside the offices of the airline in Taipei to express indignation for the airline's actions.
Cathay Pacific justifies their decision stating that their regulations allow them to refuse carriage to disabled persons traveling alone who seem not to be able to support themselves. The airline spokesman added that the decision is based on safety reasons.
Cathay Pacific also rejects the allegation of discriminating against disabled passengers, stating that the company does not discriminate against people with disabilities. The airline pointed out that there are numerous disabled people among its workforce. 
I think the purser of that flight was trigger happy on Miss Lin. Her alleged condition is questionable at best, since she managed to board a China Airlines flight, who accepted her as passenger.
It is uncertain why the passenger was first allowed to board the aircraft, and then asked to get off. The airline would have never been able to perform such dreadful decision had Miss Lin boarded a U.S. bound flight. 
Cathay Pacific may hope to get away with this blunder, but they should not be given a free pass unless they apologize and financially compensate Lin Yi-Ru.
I encourage readers to spread the word on this incident, to expose Cathay Pacific for their vile actions against a person "culpable" of being disabled.