Oscar "Blade Runner" Pistorius chasing London 2012 Olympics qualifying time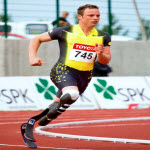 Four-time Paralympics champion Oscar Pistorius, nicknamed "Blade Runner", is still not guaranteed a place at the 2012 Olympics in London.
Pistorius, a double-amputee who runs on carbon fibre blades, ran a personal best of 45.07 seconds at a meeting in Lignano, Italy this year but will need to repeat that performance to keep his Olympic dream alive. The selection process requires an athlete to meet the qualifying time twice in order to become eligible for selection. His run in Italy achieved the Olympic "A" qualifying time which enabled him to become the first ever amputee to qualify for the World Championships. 
The Court of Arbitration for Sport (CAS) overturned a 2008 International Association of Athletics Federations ruling that originally barred him from competing at the Games, claiming that his prosthetic limbs gave him an unfair advantage. CAS deemed the evidence to be inconclusive, allowing Pistorius to vie for selection.
Debate over Pistorius' participation in the championships in South Korea flared up just before the event began though when the IAAF told him he could only run the first leg of the relay.  He was told that he could "endanger other athletes" during the jockeying at the changeover legs so could only be selected to start the first leg from the blocks. That left Pistorius at a disadvantage because the first leg always returns the slowest time as the athlete has a standing start. He feels there is some justification for challenging this ruling and sees no reason why he should not be free to run any leg of the race.
He performed admirably in the World championships, clocking 45.39 in the 400m heats in Daegu and then but missing out on the final. However, compensation was swift with a superb team silver for the South Africans in the 4x400m. Although surprisingly omitted from the final, his participation in the heats entitled him to a medal. His participation in the championships was tinged with controversy which Pistorius has come to expect as he fights for his right to compete against able-bodied athletes.  
Pistorius has set his sights on winning a medal at both the London Olympics and the Paralympics and there remain plenty of opportunities for him to achieve the necessary qualifying time. At 24, he reasons that he should be performing at the peak of his powers in the next 2 or 3 seasons. He first started competing against able-bodied athletes back in 2007 and his achievement in becoming the first amputee to win an able-bodied world track medal is unlikely to be the end of the story.