Qantas Owned Jetstar Tries To Ground Disabled Passengers Again
Written by Roberto Castiglioni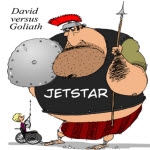 Australian low-cost airline Jetstar, owned by the well-known Qantas Airways, is once again at the centre of a dispute involving disabled passengers.
Sheila King, 75, is taking Jetstar to Federal Court on the allegation of discrimination. Mrs King was left on the ground from a Jetstar flight from Adelaide to Brisbane in August 2008. The airlines said the disabled passenger was not allowed on board because she was the third disabled traveller travelling with her own wheelchair showing up at check in for that flight. 
Jetstar is known to a policy of only allowing a maximum of two passengers with reduced mobility travelling with their own mobility device on any flight. 
The low cost carrier is not new to discriminating against disabled passengers. In November 2009, Jetstar passenger Paralympian Kurt Fearnley was involved in a confrontation with the Qantas low cost subsidiary. Asked to check-in his wheelchair and transfer to an airport wheelchair at check-in Fearnley refused to accept the unheard imposition and crawled through the terminal instead.
Also, November 2009 Jetstar was again in the spotlight for discriminating passengers with disabilities after they refused to book a guide dog of a visually impaired couple. Jetstar later apologised for the incident and blamed it on a break down in communications.
Waiting to hear the outcome of Mrs King's trial, Reduced Mobility Rights calls on the boycott of Jetstar and its parent company Qantas Airways until they remove all discriminatory rules from their conditions of carriage.
Support the Rights of People with Reduced Mobility and Disabilities: Boycott Jetstar Airlines and Qantas Airways until They Will Stop Discriminating against Disabled Passengers.