Disability Travel: U.S. Lawmakers Beat Europeans Once Again
Written by Roberto Castiglioni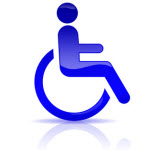 It saddens me to see Europe trail behind, but when it comes to disability rights and travel U.S. lawmakers always seem to be light years ahead of Europe.
Take a look at the laws protecting the rights of disabled passengers:
They have had Part 382 for 21 years, and it is entirely in force; we have had 1107/2006 for 3 years, and its integration to member states legal framework is still on-going.
I still cannot believe EU lawmakers had to spend millions to come up with 1107/2006, a midget compared to Part 382. Taxpayers money would have been spared and the rights of people with reduced mobility and disabilities better protected by adopting Part 382 as European standard. One may take a look at RMR review of both laws to determine which law provides the best protection to the travel rights of people with reduced mobility or disability. Reduced Mobility Travel Rights.
Here we go again. In the U.K., the Department for Transport aims to transfer enforcement powers of EU 1107/2006 to a civil procedure by 2012. Meanwhile, in the United States, the Department of Transportation is proposing to implement a series of new rules around accessibility to air travel information.
In other words what Reduced Mobility Rights is doing on a voluntary basis with airport websites accessibility assessments, to ensure they allow disabled passengers sufficient information, is going to become a mandatory requirement in the United States.
The U.S. Department of Transportation (DoT) is proposing air travel websites, as well as automated airport check-in kiosks, be made accessible to people with disabilities. The intention is to catch up with the introduction of new technologies in the travel industry, such as smart phone applications for remote booking and check-in.
So there it is. We are struggling to get the EU regulation to work, while the Americans are making sure every aspect of disability travel is best suited to the needs of disabled passengers.