Jerry King's Latest Mobilitoon Hits the Nail on the Head
Written by Roberto Castiglioni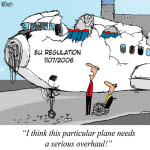 Acclaimed cartoonist Jerry king's latest Mobilitoon hits the nail on the head, drawing readers attention to the necessity of overhauling EU Regulation 1107/2006. Reades may have followed the latest events at Edingburgh Airport, were six disabled passengers were discriminated, humiliated, and left stranded.
I was talking with someone at the Department for Transport the other day. We were talking about the ongoing process to change enforcement powers of EU 1107/2006 to a civil procedure. More than 3 years after coming into force, the law can only be enforced in criminal court.
I was objecting about the need to have this process completed, because a fully enforceable regulation constitutes significant disincentive for those planning to infringe it.
The person I was speaking with said that the process "should" be completed next year. I told her we needed this done today, not in one year's time.
It almost feels like lawmakers have other priorities at heart, but when it comes to safeguarding the rights of people with reduced mobilities and disabilities well, these hardly reach the top of the list.
Well, Jerry King's Mobilitoon is spot on then. We need immediate corrections to EU regulation 1107/2006, we need to ensure its enforceability to better safeguard the rights of people with reduced mobility while reminding service providers and airlines that they can no longer get away with infringements.