Traveling by Air with Reduced Mobility: The Road Ahead
Written by Roberto Castiglioni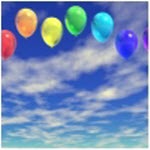 When I first started traveling, I never bothered to consider what could have been my travel experience if I had reduced mobility. I was probably too absorbed by the many problems all frequent travelers experience, first and foremost delays, to be sensible enough to look around and see how others were dealing with issues greater than mine.
My son was born premature, very premature. Because of events at birth he developed a condition known as cerebral palsy.
He has serious issues affecting his left limbs which cause him to have reduced mobility. I never quit my passion for travel by air, and soon discovered exposing my son to different cultures, having him explore new places and meet new people were positively affecting his cognitive development.
As we traveled, I began to notice that services for people with reduced mobility had room for improvement. Some airports have excellent services, others below standards. Some airlines care about the well being of their less fortunate guests, others do not.
Occasionally I found myself in the position of having to complain. This is when I noticed the biggest problems.
Complaint procedures are rarely available in accessible formats. The entities complaints shall be directed to are unclear. 
There are many excellent charities out there, most doing a superb job supporting the most vulnerable. I just could not find someone who would listen to my problem and help me determine the appropriate steps to move forward.
I have decided to launch this website as an answer to the above questions. A place where people with reduced mobility and all others interested in this issue can share, learn, find advice. A website that helps expose those who violate the rights of people with disabilities, while providing those who genuinely want to make amends possible solutions based on direct experience.
Then comes what i think is the biggest problem we all live with, the European Regulation 1107/2006. This abominable piece of legislation, written by people with little clue of the needs of disabled people and even less understanding of the airline industry, is nowhere near being the answer to the travel requirements of people with reduced mobility. 
Ultimately, the goal is to create a community of people from all walk of life, all sharing the same goal of promoting equality in today's society. A community strong enough to offer suggestions to lawmakers. If they listen, people with reduced mobility will be making a giant step forward. Togehter we can!