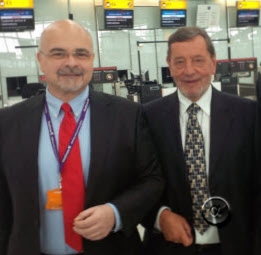 Despite society's call of duty, far too often we observe situations in which people with disabilities bear the brunt of discrimination and humiliation. Disability rights are far from being a widespread concept. 
My analysis is not academic. It is the outcome of personal experience as father of a child bearing a serious condition which significantly affects his development and mobility. 
Having the opportunity to travel frequently, I have become more and more aware of the obstacles and difficulties disabled children and people with reduced mobility in general encounter when on the move. 
In my personal experience, I have become aware of how difficult traveling by air can be. While normal holidaymakers have the physical and intellectual resources to overcome challenging situations, air travel challenges may represent a mountain too high to climb for those looking at holidays for disabled. 
Speaking with parents of disabled children I came to realize how these problems often persuade them to forego the option of taking their loved ones on holiday.
Having experienced the vast majority of problems arising from so called "wheelchair holidays" I have decided to put my personal experience at service of all those who want to enjoy a seamless disability holiday without having to suffer discrimination and humiliation.
Having built a network of personal contacts and relationships with law enforcers, airport managing bodies, and airlines I think I can offer others reliable information and advice. 
I look forward to meet all those who wish to share their personal disabled travel experience, or those who are seeking tips to move past obstacles. I created this web site, the first of its kind, with the idea of a communication hub in mind. 
Here, PRMs (common abbreviation for People with Reduced Mobility), their carers and all those interested in this subject can meet and share their stories, get detailed information about their rights, find exclusive articles, and trigger investigations into cases of discrimination and humiliation pertaining to reduced mobility travelling.
The goals of this web site are to make sure service providers, public or private, comply with the laws safeguarding People with Reduced Mobility Rights; to expose those who violate the laws; to promote awareness among operators and the general public; ultimately to reiterate everybody's right to travel, irrespective of their condition.
Roberto Castiglioni
Publisher - Reduced Mobility Rights